---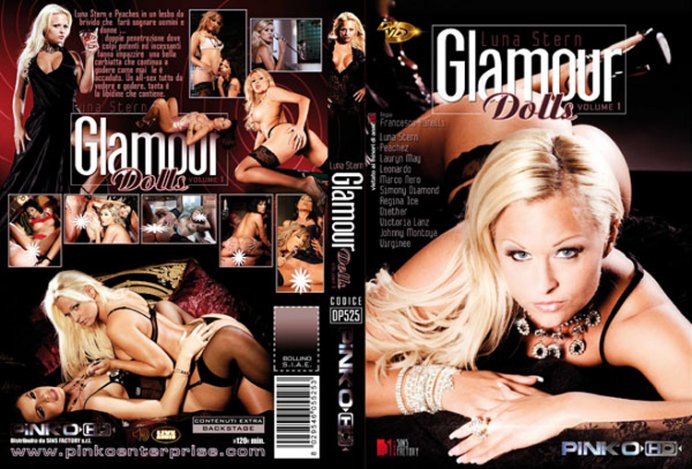 Glamour Dolls 1 Bourgeoises & Putes 2007
Luna Stern and Peaches in a thrilling lesbian movie that will make both men and women dream of it! Double penetrations where powerful and uninterrupted bangs will drive a wonderful babe crazy making her continuously fell deep pleasure as it had never happened to her before. An all-sex movie overflowing libido that has to be fully enjoyed.
Luna Stern, Virginee (aka Imogene), Peaches, Lauryn May (aka Kissy), Simony Diamond, Regina Ice, Victoria Lanz.
Scenes:
Scene 1 Virginee
Scene 2 Victoria Lanz
Scene 3 Regina Ice, Simony Diamond
Scene 4 Lauryn May
Scene 5 Peaches, Luna Stern
***
Glamour Dolls 2 Les Salopes Du Sud 2008
Five gonzo scenes of wild sex, such as occasional fuckings with beautiful and exciting women who want to immediately enjoy a cock because they can't wait, because their fluids flow plenty and they desire a penetration. The star of this movie is the mighty Roberta who, as usual, won't disappoint you and will make you daydream.
Roberta Missoni, Kyara (aka Ksara), Lea Lexus, Yasmine Gold, Cecilia Vega, Moana Mendez
Scenes:
Scene 1 Cecilia Vega, Moana Mendez
Scene 2 Kyara
Scene 3 Yasmine Gold
Scene 4 Roberta Missoni
Scene 5 Lea Lexus
***
Glamour Dolls vol. 3 2008
Solo Andrea Nobili, dall'alto della sua esperienza e dotato di una capacita' tecnica fuori dal comune, poteva osare tanto: ha infatti unito l'hard piu' spinto a immagini glamour e il risultato e' di una sensualita' straordinaria! Quasi tre ore e mezzo di sesso duro e travolgente (da sottolineare le particolari venute in bocca con l?uso di speciali divaricatori) e una Michelle Ferrari piu' scatenata come non mai nella migliore scena della sua carriera (con Big Willy e Cristian). Anal profondi, doppie penetrazioni interminabili, ingoio, Tanto sesso cosi' vario e raffinato non si era mai visto, grazie alla presenza di autentiche dee del sesso come Loona Lux e Caty Campbell.
Michelle Ferrari, Kathy Campbel (aka Kathia Nobili, Caty Cambel), Loona Luxx, Natalli DiAngelo, Alina
Scenes:
Scene 1 Loona Luxx
Scene 2 Alina
Scene 3 Natalli DiAngelo
Scene 4 Kathy Campbel
Scene 5 Michelle Ferrari
***
Glamour Dolls 4 2008
Star indiscussa di questo video l'affascinante Roberta, unica nella sua naturale prosperosita', immersa in una scena intensa che vi fara' sognare, in un magnifico scenario caraibico. Scene con bellissime e conturbanti ragazze vogliose di godersi i loro partner in questa collana Glamour giunta al quarto volume. Un all-sex ricco di passione e sesso ben curato per farvi ardere di piacere.
Roberta Missoni (aka Roberta Gemma), Kathy Campbel (aka Kathia Nobili, Caty Cambel), Black Angelika, Britney, Alessia Donati, Natalie Caravaggio (aka Nataly)
Scenes:
Scene 1 Roberta Gemma, Alessia Donati
Scene 2 Nataly
Scene 3 Britney
Scene 4 Kathy Campbel
Scene 5 Black Angelika
4 DVD Size: 7.45 GB

Download movie:

---
Tags: